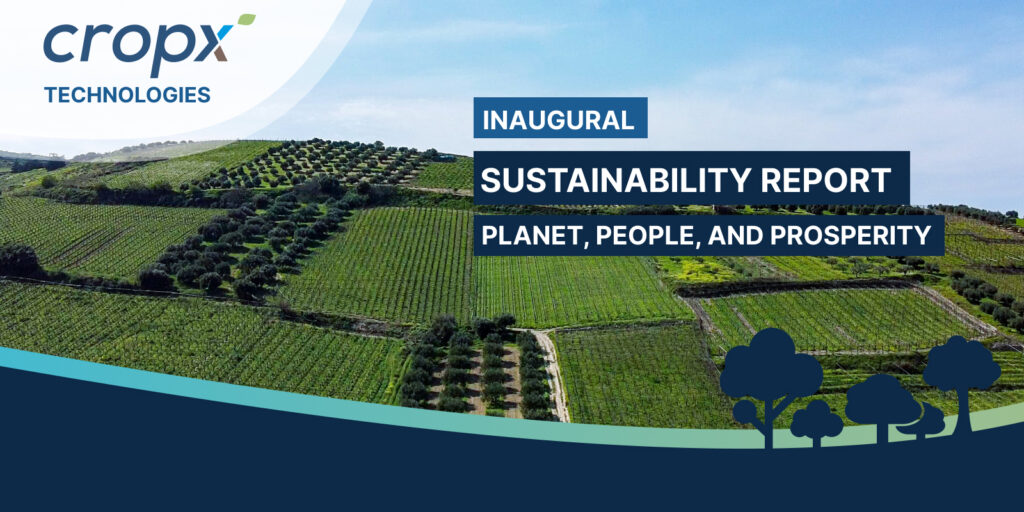 San Francisco, 23 October 2023 — CropX Technologies, a leading innovator in digital farm management, is proud to announce the release of its first-ever Sustainability Report: Planet, People, and Prosperity. This report highlights CropX's dedication to sustainability and showcases the company's global impact from both its products and its internal business operations.
In an era where environmental sustainability and restoration is at the forefront of global concerns, CropX reaffirms its commitment to sustainable farming practices and environmental stewardship, as well as sustainable business operations.
CropX's groundbreaking agronomic farm management system empowers farmers worldwide to optimize irrigation, reduce water and chemical usage, and increase crop yields. The report discusses these global benefits and also focuses on the company's efforts to reduce impacts of the hardware manufacturing process and product life cycles.
The Sustainability Report also details the steps CropX is taking to reduce its own corporate carbon footprint, as well as the policies that support a sustainable and positive work environment for its global employees. Throughout the report, CropX showcases its commitment to building sustainable prosperity for farmers, employees, partners and investors.
"Sustainability is a goal at CropX that motivates our innovation. The needs of people & planet are many and varied, and the solutions will be too," said Bridgit Hawkins, Chief Sustainability Officer at CropX. "This report marks our current state as we bring our technology solutions to improve the lives of farmers across the world, but we aren't satisfied yet. We know there is more to achieve, and we are committed to amplifying the impact our business has on global sustainability outcomes."
CropX is excited to share this milestone report with its partners, customers, and stakeholders as a testament to its dedication to sustainability, environmental responsibility, and a greener future for all.
To access the full Sustainability Report, go here.
About CropX Technologies:
CropX Technologies is one of the fastest growing providers of agribusiness farm management solutions in the world, deployed in over 50 countries and across all arable continents. Our flagship product, the CropX agronomic farm management system, synthesizes data from soil to sky to offer advanced soil and crop intelligence and a suite of digital agronomic decision and planning tools, all on an easy-to-use app capable of tracking multiple farms and fields. CropX Technologies is backed by the world's leading agribusinesses and VCs, who recognize that CropX's precision-ag technologies set new standards of best practices for environmental sustainability and greater farm productivity.
Media Contact:
Hanna Day-Woodruff
hanna.dw@cropx.com