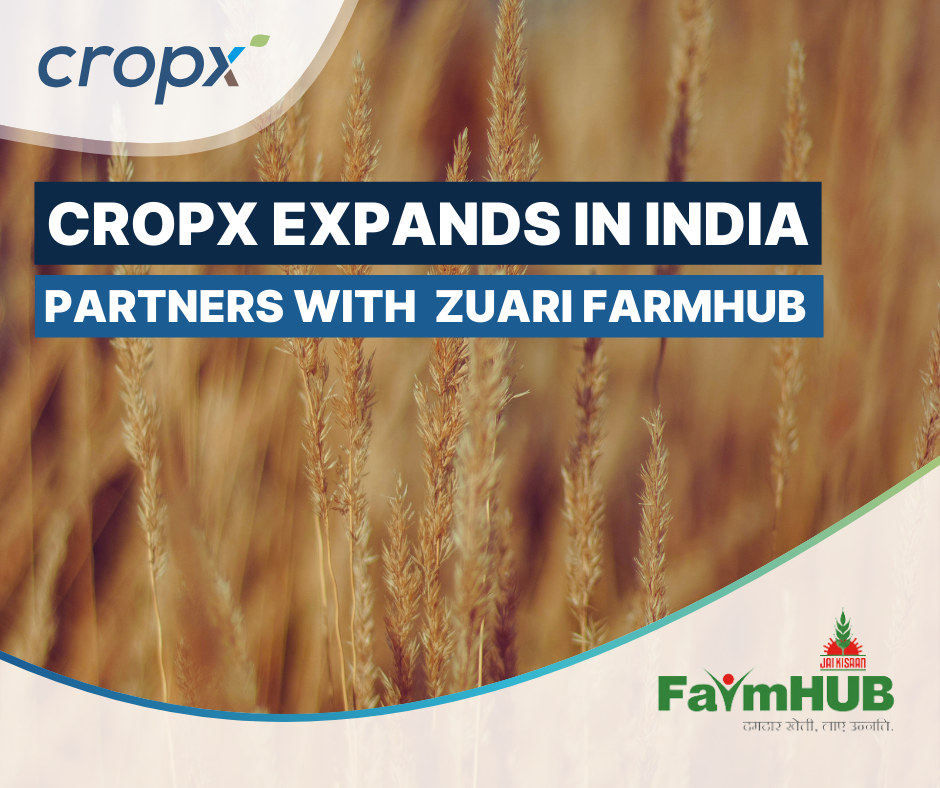 San Francisco, 10 October 2023 – Zuari FarmHub, a leading agritech company in India, announced its partnership with CropX Technologies, a global agri-tech company specializing in digital agronomic solutions. The collaboration aims to revolutionize farming practices by introducing real-time monitoring technology that empowers farmers with data-driven insights for enhanced productivity and sustainability.
Zuari FarmHub initiated trials of the CropX system at Zuari Agri Innovation Centre in Solapur as well as select farmer fields across Karnataka & Maharashtra. CropX offers a state-of-the-art hardware-enabled system that monitors critical agronomic parameters in real-time. These smart devices collect predictive soil data, combining it with additional data sources in and around the farm, and agronomic knowledge to generate recommendations on irrigation and nutrient management. This helps farmers to optimize resources and improve crop growth.
"We at Zuari FarmHub are thrilled to partner with a pioneering agri-tech company like CropX Technologies, that shares our vision of revolutionizing agriculture through cutting-edge technology," said Madan Pandey, MD & CEO of Zuari FarmHub. "By providing farmers with real-time data and precise recommendations, we are empowering them to maximize yields, reduce resource wastage, and ensure sustainable farming practices."
"The collaboration with Zuari FarmHub represents an exciting opportunity to extend the reach of our innovative solutions to Indian farmers," said Tomer Tzach, CEO of CropX Technologies. "By combining our agri-tech expertise with Zuari FarmHub's deep understanding of the Indian agricultural landscape, we aim to re-vitalize industry practices."
The collaboration between Zuari FarmHub and CropX Technologies signifies a major milestone in advancing precision agriculture in India. As the pilot progresses, Zuari FarmHub will appropriately roll out the CropX system in other regions of India.
About Zuari FarmHub:
Zuari FarmHub Limited (part of the Adventz Group) is an AgTech venture in the domain of agriculture and allied services. Renowned by "Jai Kisaan" brand, Zuari FarmHub operates one of the largest agri retail chains in India, offers an extensive agri input product portfolio that provides nurturing, nutrition and protection for the full lifecycle of the crops – includes Micronutrients, Soil Conditioners, Organic Products, Specialty Agri-Fluids, Fertigation Products (WSF) and Crop Care Products.
The mission for Zuari FarmHUB is to build and leverage latest technologies and advancements in precision farming methods to create value for farmers and other farming-related stakeholders by providing integrated agri-solutions for all their operational needs.
About CropX Technologies:
CropX Technologies is one of the fastest growing providers of agribusiness farm management solutions in the world, deployed in over 50 countries and across all arable continents. Our flagship product, the CropX agronomic farm management system, synthesizes data from soil to sky to offer advanced soil and crop intelligence and a suite of digital agronomic decision and planning tools, all on an easy-to-use app capable of tracking multiple farms and fields. CropX Technologies is backed by the world's leading agribusinesses and VCs, who recognize that CropX's precision-ag technologies set new standards of best practices for environmental sustainability and greater farm productivity.
Media Contact:
Hanna Day-Woodruff
hanna.dw@cropx.com