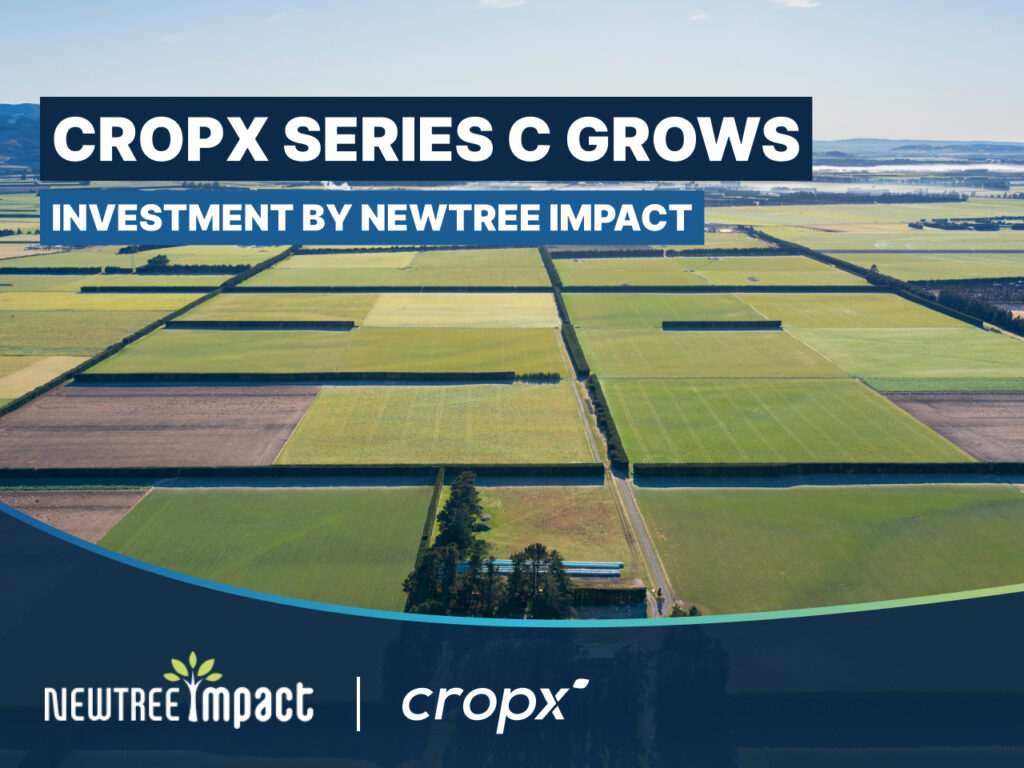 San Francisco, 4 October 2023 – CropX Technologies, a global leader in digital solutions for agronomic farm management, is thrilled to announce that Newtree Impact has joined the CropX Series C funding round. Newtree Impact is a Brussels-based impact investment firm that is dedicated to fighting climate change by investing in revolutionary agri-food technologies.
Newtree's participation in CropX's Series C underscores the global impact of CropX-enabled efficient farming that reduces unnecessary irrigation and chemical use while protecting yields. CropX is the only farm management technology in the Newtree portfolio.
CropX offers a suite of connected digital technologies designed to enhance crop yield, optimize irrigation, and promote resource-efficient farming practices, while providing visibility and tracking of sustainability practices. Its technology leverages data-driven insights, sensors, and advanced analytics to provide farmers with real-time information and agronomic advice about soil conditions, moisture levels, and crop health, and offers custom APIs and enhanced connections to supply chain partners.
CropX first closed $30 million in Series C funding in April 2023 in a round led by Aliaxis that included Edaphon, Finistere Ventures, NTT Finance Corporation, OurCrowd, Reinke Irrigation, Yair Shamir, and Victrix. CropX reopened the round to include Newtree Impact.
Newtree Impact's investment in CropX reflects a shared vision for the future of agriculture that prioritizes sustainable practices and responsible resource management to fight climate change.
"We are delighted to welcome Newtree Impact as a strategic investor in our Series C funding round," said Tomer Tzach, CEO of CropX Technologies. "Newtree Impact invests in companies that productively disrupt agriculture for the greater good of the climate and people. CropX is a perfect fit for their portfolio with our mission to transform agriculture through data-driven innovations. This partnership will enable us to empower farmers and improve food production worldwide for the greater good of the planet."
"We are excited to support CropX Technologies in their mission to drive sustainable agriculture forward," said Benoît de Bruyn, founder and CEO at Newtree Impact. "Their innovative approach to agronomic farm management aligns perfectly with our commitment to rapidly create a more sustainable future. We believe that this partnership will drive positive change in the agriculture industry and ultimately make agriculture a part of the climate solution."
With this investment, CropX will be able to accelerate its efforts in making precision agriculture accessible to farmers worldwide, ultimately leading to more efficient resource use, increased crop yields, and a healthier planet.

About CropX Technologies:
CropX Technologies is one of the fastest growing providers of agribusiness farm management solutions in the world, deployed in over 50 countries and across all arable continents. Our flagship product, the CropX agronomic farm management system synthesizes data from soil to sky to offer advanced soil and crop intelligence and a suite of digital agronomic decision and planning tools, all on an easy-to-use app capable of tracking multiple farms and fields. CropX Technologies is backed by the world's leading agribusinesses and VCs, who recognize that CropX's precision-ag technologies set new standards of best practices for environmental sustainability and greater farm productivity.
About NewTree Impact:
Newtree Impact is a Belgian impact holding dedicated to fighting climate change by investing in revolutionary agri-food technologies. Newtree Impact has invested, among others, in Fable Food (a mushroom-based alternative to meat); EvodiaBio (producer of natural flavors); Algama (producer of food ingredients from microalgae); Protix (the world leader in insect ingredients); and Proteon Pharmaceuticals (bacterial phages to combat growing antibiotic resistance).