NAPA, CA -Jan. 31, 2023/PRNewswire — CropX Technologies, a global leader in digital solutions for agronomic farm management, today announced its acquisition of Tule Technologies, a precision irrigation company based in California. This acquisition brings new data capture technologies to the CropX Agronomic Farm Management System and expands its market in California drip-irrigated specialty crops.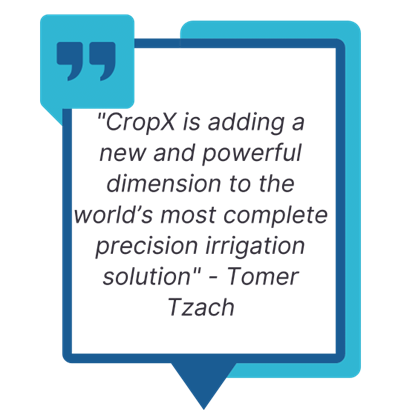 The CropX system offers its users real-time mobile and desktop insights and advice on irrigation, disease control, nutrient management and more, based on above-ground crop sensing data and below-ground soil monitoring. Tule brings a complementary new mode of data collection from above the plant canopy that precisely determines crop water use, which will enhance CropX's artificial intelligence predictions, recommendations and automations, and add to its solutions for drip-irrigated specialty crops such as tree-nuts and vineyards.
"We are excited to welcome Tule to CropX, expanding our offerings to our customers to solve agronomic problems. With Tule's canopy data incorporated into the CropX system, CropX is adding a new and powerful dimension to the world's most complete precision irrigation solution," said Tomer Tzach, CEO of CropX Technologies.
Effective immediately, all Tule employees will join CropX, adding expansive on-farm and client service expertise in the specialty crop and drip irrigation space, as well as technology talent to CropX's growing global team.
"At Tule, we've admired CropX for their agronomic expertise, engineering excellence, and global ambition," said Dr. Tom Shapland, CEO of Tule Technologies. "We couldn't be more thrilled to join the CropX team."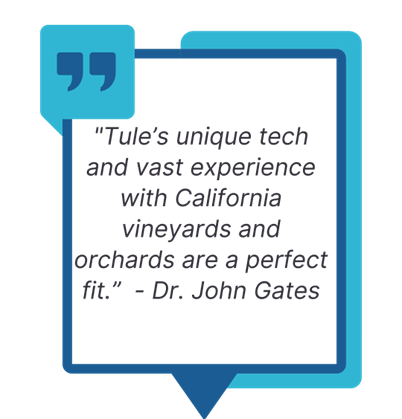 The acquisition comes at a time of increasing demand for precise watering technologies in agriculture. "The farming industry is at the frontlines of global challenges to balance food security with water and other natural resources," said Dr. John Gates, Senior Vice President and Global Head of Product at CropX. "We are committed to helping our customers manage water confidently and efficiently with technology. Tule's unique tech and vast experience with California vineyards and orchards are a perfect fit."
This is the fourth acquisition CropX has made since 2020 and the second US-based company. CropX acquired Nebraska-based CropMetrics in the first quarter (Q1) of 2020, New Zealand-based Regen in Q4 of 2020, and Netherlands-based Dacom Farm Intelligence in Q3 2021, in each case adding expertise, technologies, customers, data and expanding markets. CropX will do the same with Tule working to incorporate the team and technology into an easy-to-use yet powerful agronomic farm management system. The final results being a more robust solution to more farmers and enabling a sustainable and connected agriculture industry.
About Tule Technologies
Founded in 2014 with backing from Y-Combinator and others, Tule (pronounced "too-lee") combines proprietary technology, agronomic expertise, and cutting-edge artificial intelligence to provide farmers with irrigation decision support solutions. Their unique in-field sensor, developed at the University of California, Davis, is the only commercially-available device for measuring Actual Evapotranspiration (i.e., the water use of a farm field). The company's customers include the winemakers who tend to coastal California's most prized vineyards to the agronomists who farm thousands of acres of tree crops in California's inland valleys. 
Click this link to learn more! Tule Technologies becomes a part of CropX