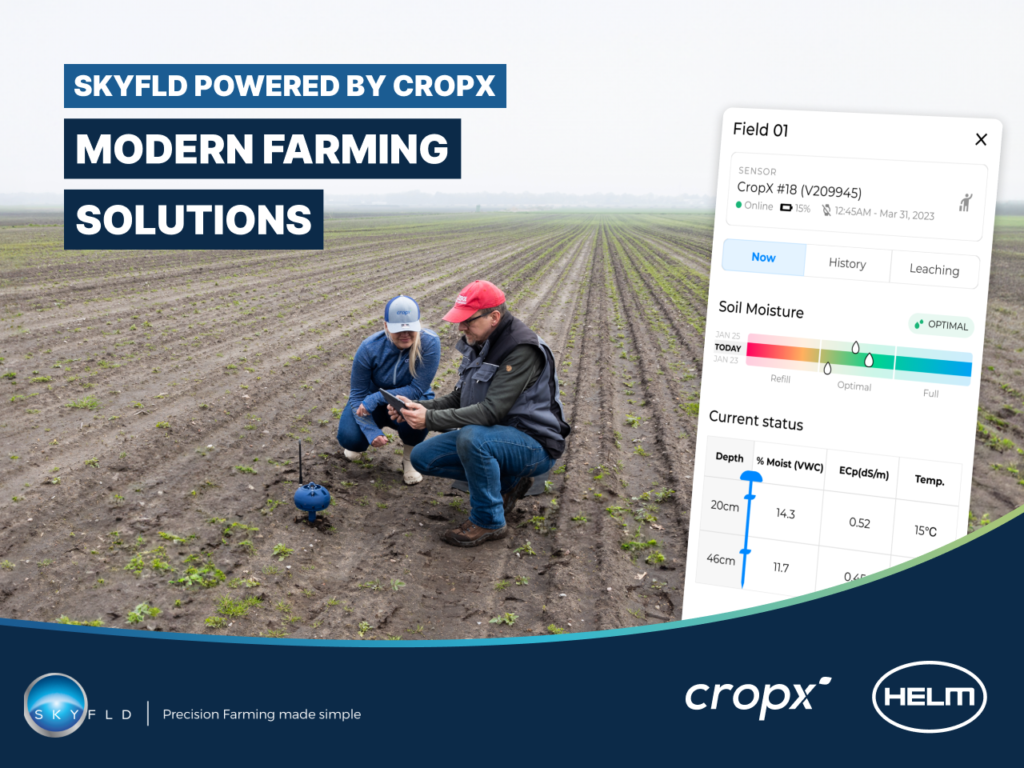 CropX data and insights accessed on SKYFLD; SKYFLD clients to use CropX soil sensors
Tel Aviv/Hamburg 5 July 2023 — CropX Technologies and HELM AG are pleased to announce a major advancement in their strategic partnership to enable data-driven sustainable farming. HELM AG's SKYFLD app customers can now access data and agronomic insights from the CropX agronomic farm management system through a seamless API integration that will empower farmers to make informed decisions and enhance precision farming practices.
HELM AG is one of the world's leading crop protection companies with over 120 years in the industry, and sales offices and participations in over 30 countries. CropX is one of the fastest growing agtech startups, bringing advanced yet user-friendly digital agronomic solutions to farms globally. Both companies share a vision of creating powerful yet simple solutions to help farmers adopt digital innovations.
The SKYFLD app helps farmers manage their fields sustainably with precision fertilizer and crop protection planning, recording and scouting. SKYFLD users can create digital fertilization and seeding plans based on satellite biomass maps to help farmers get the most out of every field.
SKYFLD users will now access a wealth of valuable information that the CropX agronomic farm system collects from sources in and around the farm, including predictive data from CropX soil sensors related to soil moisture and data, disease pressure, salinity and leaching – all in one comprehensive platform.
This collaboration enables HELM AG to tailor their SKYFLD digital experience to their customers' needs without reinventing the wheel. With SKYFLD powered by CropX, users can have confidence that their agronomic decisions are grounded in accurate and reliable data and agronomic expertise to help them optimize irrigation practices, enhance crop yields, and improve resource efficiency.
"We are excited to partner with Helm AG to bring our data and insights to the SKYFLD app," said Tomer Tzach, CropX CEO. "At CropX, we are enhancing our external API functionality to meet rising demand from agribusiness enterprise clients. "
HELM AG's Director of Digital Agriculture Stephan Poppe-Kirchmann said, "By leveraging CropX's expertise, we are providing our customers with a powerful platform that combines Helm AG's deep industry knowledge with cutting-edge agronomic insights. This partnership represents a significant step forward in our mission to support farmers in making data-driven decisions for their operations."
The integration of CropX's data and agronomic analytics into the SKYFLD app is available now.
About HELM
HELM is a Hamburg, Germany, based family-owned company established in 1900 generating global revenues of EUR 6 billion per year. HELM is one of the world's largest chemicals marketing companies. The company secures access to the world's key markets through its specific regional knowledge and subsidiaries, sales offices and participations all around the globe. As a multifunctional marketing organization HELM is active in the chemicals industry, in the agricultural industry and in pharmaceuticals.
About CropX Technologies
CropX Technologies is one of the fastest growing providers of agribusiness farm management solutions in the world, deployed in over 60 countries and across all arable continents. The CropX Agronomic Farm Management System synthesizes data from the earth and sky to offer advanced soil and crop intelligence and a suite of digital decision and planning tools, all on an easy-to-use app capable of tracking multiple farms and fields. CropX is backed by the world's leading agribusinesses and VCs, who recognize that CropX's precision-ag technologies set new standards for best practices in environmental sustainability and farm productivity. Learn more at www.cropx.com.